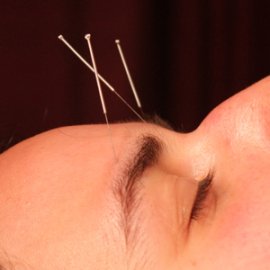 "I have had many acupuncture experiences prior to meeting Jenn and those experiences typically included the struggle of "translating" my needs. And then I came into contact with Jenn. With Jenn there was no translation needed – she just got it right away. Jenn's intuitive sense is very strong but her manner is unassuming so I was a bit surprised by how quickly she honed in on my psycho-spiritual needs as well as my direct physical needs. Wow. When we finally got to the point she was inserting needles into my body she put every single needle precisely where it needed to be. I floated through my session and have been going back to Jenn ever since. I've had a lot of acupuncture in my 44 years and my experience says she's the best".
- Kelly Collins
"Jenn is amazing. I came to her, stressed, without being able to sleep well, and with a heavy feeling all over. She took time to assess everything that was going on in my life, and explained to me what acupuncture points she was going to use to alleviate what I was going through. After 10 minutes of acupuncture, I felt as though I was finally able to breathe and to release much of the stress that I was going through. I felt connected with myself again, and got clarity in areas that seemed to be stuck.
I think Jenn is a terrific acupuncturist. I definitely recommend her. I trust her to bring me relief whether I am in physical pain, or am just going through stress."
- Ana Simono
"I originally came to Jenn with elevated blood pressure and the strong desire to avoid Western medication if at all possible. I have found that she has been extremely effective at helping me to do so. Through her treatments, careful guidance, and support, I have been able to get my blood pressure under control, and to make overall improvements in my body's ablility to handle extremely high levels of stress. Working in Chinese Medial for over 17 years, I have access to many practitioners who are of Chinese descent. Nevertheless, it is without hesitation, that I would recommend her highly no matter the reason that you may be seeking treatment."
- Paige Sachs
"I have been seeing Jenn for a number of months, mainly for Hepatitis C and psoriasis/psoriatic arthritis. Jenn does a great job of listening to what's going on with my body, and me and choosing acupuncture points which help me find relief. She is committed to creating a treatment that will best suit my needs. Since the first treatment I have had relief with her treatments, and I highly recommend getting acupuncture from Jenn. She has consistently been able to address my needs, and offer care for me in which I feel better, and supported in my daily life".
- Heather McAuley
"I've been an acupuncture recipient for many years and I have the highest recommendations for Jenn Keys. She has a combination of expertise, calm and focus. She really listens and she really hears – and as her patient I've been fortunate to be the beneficiary of her wonderful abilities and skills".
- Jenny Reed
"Jenn's method of acupuncture is very effective for chronic pain management. She will also assess any health area that's a concern and will prescribe Chinese herbs that help".
- Kathy Halliburton
"I have been a patient of Jenn Keys for a number of months. I began seeing Jenn for side effects caused by Interferon (Chemotherapy) treatment. I was experiencing numerous symptoms that kept me constantly feeling weak, nauseous, fatigued, and depressed. I was especially affected by insomnia. The insomnia was making all of my side effects unbearable. I was often unable to function in necessary daily activity. Once I began seeing Jenn for acupuncture, I noticed a substantial improvement in my insomnia. My other side effects improved and/or diminished immensely. Jenn discusses my health needs at every appointment prior to my acupuncture treatment. This has allowed Jenn to specifically focus her acupuncture treatment on my most uncomfortable symptoms. Jenn combined my acupuncture treatments to work with and enhance my MD's medical treatment plan. Jenn's ability to listen to me, focus on me, and implement an acupuncture regimen specifically targeted to my changing needs has been nothing short of a miracle for me. I have regained daily function, and a zest for life!".
- Peter Dale
JENN KEYS ACUPUNCTURE
200 N. San Mateo Dr. Ste B
San Mateo, Ca 94401
jennkeyslac@gmail.com
(415)205-4499